Oncology Nurses Recognized as Cancer Care Leaders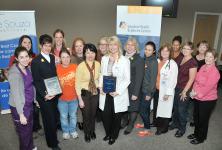 London Health Sciences Centre oncology nurses were honoured to be recognized for excellence in cancer care on Oncology Nursing Day by de Souza Institute, an innovative centre of cancer care learning.
"Ontario cancer patients are receiving the best care in the world by nurses who are applying their specialized knowledge and skills they developed though the De Souza Institute. I want to thank these nurses for their commitment to Ontario cancer patients and their support for excellence in oncology nursing," said Deb Matthews, Minister of Health and Long-Term Care.
London Health Sciences Centre has been a leader in Ontario with nearly 150 nurses participating in de Souza's cancer care courses, including 125 nurses who have taken the standardized chemotherapy and biotherapy course.
Established in 2008 by the Ministry of Health and Long-Term Care to support nurses who care for patients with cancer and their families, de Souza Institute has provided ongoing educational support and career counseling to 5,000 nurses that care for cancer patients and families.
"This is a testament to the dedication of our nurses who continue to evolve and enhance their skills to better treat cancer patients," says Dr. Vanessa Burkoski, Vice President and Chief Nursing Executive, Quality, Patient Safety and Professional Scholarly Practice. "Patients directly benefit from the knowledge our nurses take from the classroom and bring to the bedside."
"We are proud to present London Health Sciences Centre with this prestigious plaque." said Dr. Mary Jane Esplen, Director of de Souza Institute. "The nurses at London Health Sciences Centre are leaders in cancer care. The community is lucky to have these expert nurses who are committed to cancer care excellence."
Fiona Barham, registered nurse, London Regional Cancer Program (LRCP), was individually presented a plaque for achieving her de Souza Nurse Designation. The Designation showcases her expertise in cancer care. After completing a program of intensive oncology courses and a clinical fellowship, Fiona became the first nurse to achieve the de Souza Nurse Designation at LHSC and third in the province to hold this designation.
The demand for nurses with specialized skills in cancer care is continuing to grow. According to the Canadian Cancer Society, in Ontario, every hour of every day, an average of eight people will be diagnosed with some type of cancer, and three people will die from the disease. Cancer Centres like LHSC's London Regional Cancer Program and organizations like the de Souza Institute are focused on bettering the cancer care experience for patients and families by ensuring they have access to the best cancer care nurses and information.
Following the presentation, oncology nurses participated in a "surprise" group dance performance as part of a nationwide effort to recognize and celebrate the 10th annual Canadian Oncology Nursing Day. Click here to view a video of the Flash Mob performance.
media inquiries
Sara Wilson
Publicity and Promotions Specialist
South West Regional Cancer Program
519-685-8500 ext. 71826
Sara.Wilson@lhsc.on.ca